"The Steel Suppliers Guide" A Guide For Steel Suppliers, And Scrap Metal buyers.


"Welcome International Traders"
The Steel suppliers guide is indeed a guide for steel suppliers, and scrap metal buyers. You are going to be both so, I'm glad that you were able to find your way here. You are all welcomed and encouraged to become a part of the reality that we are trying to create for everyone. If more of us were to understand and perform this business correctly, others would have to change, or give it up, because businesses would use just you and me.
I plan to do everything I can to make this site, our Steel Suppliers Guide. I'm looking forward to having all of you help with your stories and successes. None of us knows everything, but between all of us, we will succeed.
Let's Get Started, Shall We?

If we want to be successful in the international trade business selling or buying scrap metal, billets, ingots, iron ore, or any other type of steel product, we need to know our market! In addition, we need to know if the scrap metal buyer or steel supplier that we are dealing with, is someone we can trust. What we need is a verifiable list of steel suppliers, steel mills, and steel manufacturers. There is no way around it!
"The Steel Suppliers Guide"
"The Steel Suppliers Guide" cannot give you the gift of a natural born salesperson, but what it can do is give you the proper tools to build your business, as I have built my own.
I have spent countless of hours putting together the Steel Suppliers Guide, by verifying the real steel mills and steel manufacturers that purchase scrap metal, at real scrap metal prices.
They can also manufacture, and supply, you with steel that you can market with confidence. Items like steel rolls, steel coils, steel sheets, or maybe you prefer to sell billets, ingots, or iron ore. They are in there.
The Steel Suppliers Guide lists over "300" top steel mills and manufacturers in India. There are obviously more companies in India that are real, but I took the ones I felt we could trust, and who have established credibility. Below you will find out who I feel is credible and why.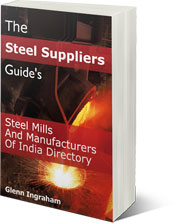 There are also paragraphs of information about each scrap buyer/steel supplier, including contact information. So now, you can preview the company before you visit the site. This saves a lot of time. In addition, when the scrap metal at the yard is here today, gone tomorrow, time saved is money earned.
You say you're not sure. Well then, let me help you make an educated decision. Click here to see a sample page of a directory. You are welcome to have this one. I took it from one of my other directories. This way you will not have to compete with others on a listing that came from the directory for India. I personally wouldn't bother with this listing with all the traders that have visited here already, just a thought.
What Criteria Did We Use To Establish Credibility?
The first thing anyone, and everyone listed in the "Steel Suppliers Guide of India" has to have in order for I myself to trust them, is a website. If you do not have a website then there is no time like the present to start gaining credibility in the scrap metal business.
I'll give you a little heads up on that subject. Even if you don't have any type of computer knowledge at all, (like me) you can design an outstanding custom-made site (opens new window) through the company that I use, and will always use. They will make it so easy for you to build a very professional web site, all by yourself, and gain the credibility you are going to need to make it in this business. Would you prefer a video demo? If so, here it is. You can do what you want to of course. I just hand out the tools, you will need to build your own empire.
I don't get amazed too often with anyone, but you have to see for yourself why I speak so highly of the company. At the very least, check them out and allow yourself to make an "Educated Decision Based on Educated Thought." There's that phrase again. Weird...
"The Steel Suppliers Guide of India" is only one of many to come. Feel free to write to me through our contact page with any questions or issues you would like to discuss. I look forward to hearing from all of you at some point in time.


"Also, A Little Side Note"
If you have a real good website of your own, and you are in the mood to make it "great," You may want to consider having a banner, logo, or an e-cover made. You can see two of mine here on this, page. I got a whole lot more than that in the deal for a price that incredibly low. Click Here! to check them out or on the banner below if you wish. Write to me when you have them up so I can come and take a look!



Steel Suppliers Guide To Home Page
Scrap Metal Business Stress
Scrap Metal Business Myths
The Steel Suppliers Guide
Scrap Buyer Securing
Shipping Companies
Shipping Containers
Freight Forwarders
Scrap Recycling
Scrap Suppliers
Scrap Buyers
Scrap Prices
Intermediary
Scrap Yards
Scrap Metal
Contact Us