Shipping Companies Will Help You Estimate The Cost Of Doing Business.


Shipping companies are going to help you figure out what the cost of doing business is, especially when it comes to shipping containers.
I'm going to get into shipping containers somewhere down the line, but keep in mind, I have a business to run, so if it is not here on the site yet, keep coming back to see what new information has been posted. Make this your site too, the place that you go to get away from the BS.
"Starting The Ground Work"
What I mean by they will help you, is that they will give you a price quote for shipping. Then you are going to have to figure out what that is going to cost you per metric ton in shipping rates.
For bulk shipments it would be a little easier, but with shipping containers you will need to know what quantity of weight the yard will load, the amount of weight the shipping company allows in their container, and the over the road cost for that weight, because there is a limit on weight over the road without special permits.

I can feel some of you thinking about going back to the day job already. When you started that day job there were things that you had to learn before it became second nature and the same is true here. So tuff it out, ask questions, and come here often to see how others are doing.
We will be posting comments and suggestions as we move ahead. (Statue of Liberty and Maersk, Top Right)


Now Where Was I...Oh Yeah, Shipping.
There are many international shipping companies out there and none of them is going to hold your hand. Make sure that you get a shipping matrix to various ports you might ship to, and even those you might not.
They will simply need to know what from what port you are shipping. That port will be the one that is closest to your scrap yard. DO NOT ask for a bunch of different port prices separately, they will not bother with you.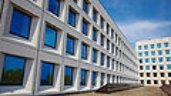 Tell them that you need to have a matrix sent to you when the prices change and need to be on their mailing list. You will certainly need India and possibly Asia. There are different stipulations for each country and you need to be the master of your profession. (Maersk Headquarters in Copenhagen on right)
The shipping companies that are worth anything will welcome your business. I'm sure that we will cover more in other pages but I need another cup of coffee so I'll end it here for this page, and will see you on another


Shipping Companies To Home Page
Scrap Metal Business Stress
Scrap Metal Business Myths
The Steel Suppliers Guide
Scrap Buyer Securing
Shipping Containers
Freight Forwarders
Scrap Metal Trade
Scrap Recycling
Scrap Suppliers
Scrap Buyers
Scrap Prices
Intermediary
Scrap Yards
Scrap Metal
Contact Us