Shipping Containers Come In A Variety Of Sizes, Let's See What You Need.


---
---
We all know what shipping containers are. If we have yet to use one then we have seen them on trains or in a picture. Oh look, there's some down below. How did that get there? Ok, so I'm funnier looking than I am funny.
Very briefly, your containers will come in different sizes for different uses.
You have :
Open Top 20' they are just as described opening from the top. The max cargo capacity (what you can load inside) is 47,620lbs or 21,600kg which is about 21mt.
Open Top 40' again, opens from the top but the max cargo capacity is 58,710lbs or 26,630kg, which is about 26mt
Standard 20' The doors open on the ends as the entire standards do. Max cargo capacity is 47,999lbs or 21,727, again a little over 21mt
Standard 40' opens on the ends with a max cargo of 59,040lbs or 26,780, or just over 26mt.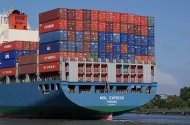 There are also high cubes, shipping containers that don't carry any more weight but gives an extra foot of headroom. In addition, there are refrigerated units, but we are going to focus on the 20' and the 40' dry, standard shipping containers for scrap metal.
You may find yourself needing open top containers every once in a while, so the scrap metal can be loaded by the scrap yard, depending on their equipment capabilities. The shipping rates will be higher for you, but if it's what you need, then do it.
But for the most part, you will use the standard 40' and not so much the standard 20' unless you are shipping brass or some smaller quantity item, or the buyer requests the 20' to be used.


"Container Availability"
Another reason is something that happened to me, there were no 40' containers available to use. MAKE SURE that you verify with the shipping companies, that you have vessel and container availabilities before you promise too much to too many people. Sometimes you will get caught with your pants down and it really sucks.
If you fear, you will not have containers available when you need them, you may want to see if the buyer will pay to reserve them for a month. It will cost about $100USD per month per container, but it may be the best option.
Even though you will likely be required to take pictures of the inside of the container before and during the loading for custom reasons, take pictures as much as possible in case you or your buyers are confronted about damage. This will cover both of you, and your clients will appreciate it if it ever comes up.
That's about it for the shipping containers, but if there are any questions that you have, feel free to contact us and we will see what we can do to answer them for you.
Shipping Containers To Home Page
Scrap Metal Business Stress
Scrap Metal Business Myths
The Steel Suppliers Guide
Scrap Buyer Securing
Shipping Companies
Freight Forwarders
Scrap Metal Trade
Scrap Recycling
Scrap Suppliers
Scrap Buyers
Scrap Prices
Intermediary
Scrap Yards
Scrap Metal
Contact Us