Obtaining a scrap metal buyer is a vital step. And now you can make that happen.
"Disclaimer"

The links in blue do not link from this site, and are "not" from the India directory.
---
Introductory Price Of
$29.00 USD
---
Byelorussian Steel Works
http://www.belsteel.com/english.php?section=2.
Byelorussian Steel Works consists of four main production facilities connected by a single processing chain, namely: steel melting, rolling, steel cord, wire production and pipe rolling. The plant also includes a number of auxiliary divisions and an administrative division.
Steel melting production includes a scrap preparation shop and two electric steel melting shops. Rolling production consists of a section rolling shop, which includes three rolling mills with different profiles.
Steel cord and wire production is represented by three steel cord and wire shops, a powder metallurgy and die workshop, and a technological packing workshop. Pipe-rolling production is located in a separate building with area of 40 thousand square meters.
The company's infrastructure consists of maintenance and repair departments for power, electrical and mechanical equipment, a railway workshop, an automobile workshop and other auxiliary divisions.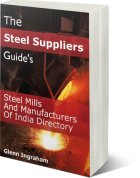 RUE "Byelorussian steel works"
Promyshlennaya St. 37
Zhlobin Gomel Region
Republic of Belarus 247210

Management Of Raw Material
Phone: (+ 375 2334) X-XX-XX
Fax: (+ 375 2334) X-XX-XX
Bureau Of Scrap Metal:
Phone: (+ 375 2334) X-XX-XX
Fax: (+ 375 2334) X-XX-XX
Email:eng1.uss@bmz.gomel.by


The Steel Suppliers Guide Privacy Policy

Scrap Metal Buyer Sample